The Rabbinical Council of America's conversion review committee, established following the arrest of Rabbi Barry Freundel on 52 misdemeanor counts of voyeurism, is recommending that the organization hire a full-time director to ensure that conversions are conducted properly.
The 22-page report released Monday specifically called for greater professionalism, transparency of expectations and sensitivity to conversion candidates. It also detailed the need for a better system to receive concerns and complaints, and a definitive way to address those complaints.
The report also called for improving the RCA website to provide detailed information on the conversion process, including what is expected of the participant and a general timeline.
Providing "support for converts, during and after the process," is among the report's 11 recommendations.
The 11-member committee, chaired by Rabbi Shmuel Goldin, honorary president of the RCA, consisted of two female converts, several rabbis and a psychotherapist. There were six men and five women. The organization serves Orthodox rabbis in the United States and other countries.
The committee surveyed 439 conversion participants and 107 sponsoring rabbis during its eight-month review. One-fourth of the conversion participants who responded to the survey "carry with them a view that the Beit Din is 'lacking professionalism'" and that they were "judged critically." They also felt a sense of "powerlessness."
Committee member Bethany Mandel, a Freundel victim, spoke at the RCA convention held June 29 to July 1 in New York. Her remarks covered not only her conversion but also experiences of the 200 people in her Facebook group who either have converted or are in the process of converting.
Mandel spoke of how "converts are often made to feel like third-class citizens during the conversion process and second-class citizens after the mikvah."
In her presentation, obtained by Washington Jewish Week, Mandel said that converts who are not fully accepted as Jews by rabbis, community members, school administrators and matchmakers, "feel pushed and rejected from Jewish life."
Mandel referred to herself as "a cautionary tale." She said she was "made to feel unwelcome and an outsider," adding, "It has made me feel disillusioned with the community I've joined, the community I'm raising my children in."
She also told convention participants: "I am what happens when a rabbi not only makes serious transgressions, but also when other rabbis don't check the power of one of their own."
Now that the committee's recommendations have been made public, Mandel said she is "cautiously optimistic" that things will improve.
Goldin, the committee chairman, called the report's release "a historic moment in which the RCA rose to the challenge with complete transparency."
But Rabbi Shmuel Herzfeld of Ohev Sholom – The National Synagogue, who quit the RCA about two weeks ago, questioned whether anything will change. He pointed out that Goldin "was in charge of the RCA when it empowered and emboldened Rabbi Freundel" and then was chosen by the RCA to head the committee.
On his Facebook page, Herzfeld wrote, "What the RCA never did is investigate (even internally, let alone independently)" why so many complaints against Freundel were ignored.
@SuzannePollak
10 revealing facts about Orthodox Jewish converts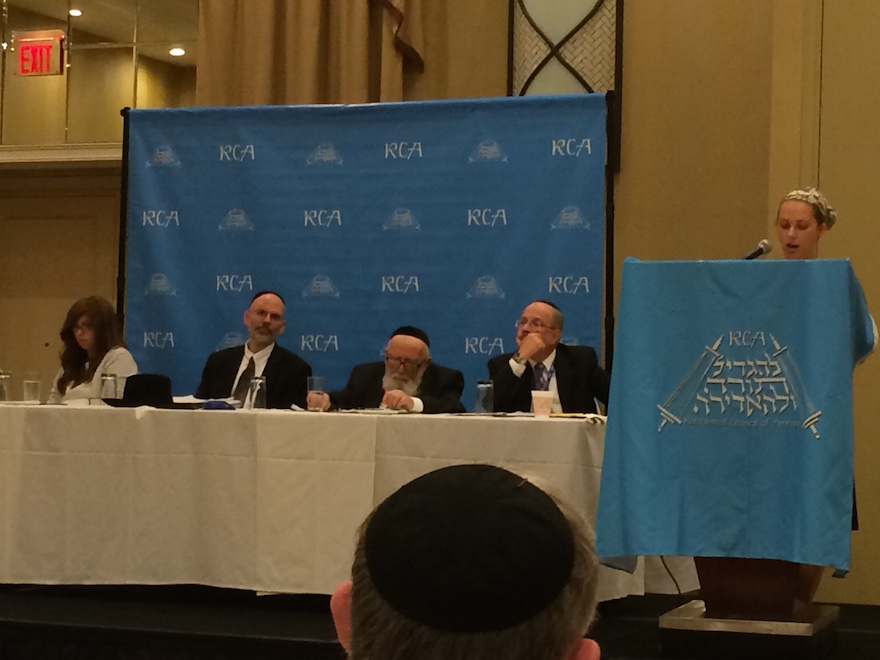 There's some tantalizingly interesting material in the final report of a committee charged with reviewing the way the Rabbinical Council of America, the country's main Orthodox rabbinical association, deals with conversion.
Much comes from a survey of 439 Orthodox converts that provides the first-ever statistics about American Orthodox converts. Some comes from a survey of 107 rabbis who sponsor Orthodox conversions. A few other interesting nuggets are buried in the report itself.
Here are 10 I found interesting:
Of the RCA's Orthodox converts:

78 percent are women
72 percent are ages 20-39
45 percent have Jewish ancestry
80 percent cite "spiritual-intellectual search" as their reason for converting

About 85 percent of converts said the process of immersing naked in a mikvah ritual bath in the presence of three rabbinic witnesses was handled with sufficient modesty.
About 57 percent said the experience was "filled with holiness and excitement that left little room for anything else," 29 percent said it felt like a sanctified moment but a little uncomfortable, 12 percent said it was just awkward and uncomfortable, and 2 percent said they resented it.
About one-quarter of respondents felt their "beit din," or conversion court, was lacking in professionalism and left them feeling powerless, subject to unreasonable demands or judged critically.
More than a third of rabbis who sponsor converts in the RCA system are not actually members of the RCA.
Sponsoring rabbis in New York City are relatively inexperienced: About half have guided no more than one or two conversion candidates, compared with at least five to 10 candidates among most rabbis of other regions.
18 percent of sponsoring rabbis said they had at least one conversion candidate rejected by the RCA's rabbinical court whom they felt should have been accepted. In four out of five such cases, the sponsoring rabbi referred the candidate to an independent rabbinical court outside the RCA's purview.
If you're black, expect to face racism among Orthodox Jews. That's one of the warnings the review panel recommends sharing with convert candidates of "ethnic origin." ("Sensitivity should be shown, as appropriate, to matters of ethnic origin as it may impact a convert's future integration into the Jewish community," it says.)
The most commonly reported cause of frustration and anxiety among conversion candidates was the absence of a realistic sense of the timeline for converting.
Converts who were raised as Jews (for example, a Reform Jew who learns she is not Jewish according to Orthodox law because her mother wasn't Jewish or didn't convert Orthodox) may have faster conversions because they are more familiar with Jewish law but still must commit to the same strictly Orthodox level of observance as all other Orthodox converts.