More than 150 Reform Jewish rabbis are marching with the NAACP from the Deep South to the U.S. capital to promote social justice.
The Religious Action Center of Reform Judaism and the Central Conference of American Rabbis are participating in the NAACP's Journey for Justice, an 860-mile march from Selma, Alabama, to Washington, D.C.
The march, which started Aug. 1 and ends Sept. 15, commemorates the 50th anniversary of the Voting Rights Act. Organizers from the NAACP, the nation's oldest civil rights organization, said they aim to bring attention to issues like economic inequality, education reform, criminal justice reform and voting rights in each of the five states they visit on the march.
When the marchers arrive in Washington at the close of the Jewish New Year, they will be welcomed, on behalf of the Reform movement, into Lustig's congregation for an interfaith service, teach-in and rally.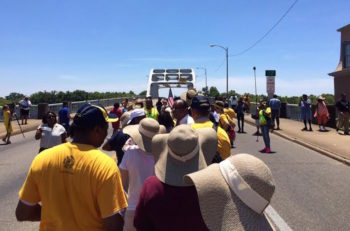 "We believe in equality. We believe that every human being is made in the image of God. We believe that America is a country where there should be justice for all," he said.
Rabbi Denise Eger, president of the Central Conference of American Rabbis, and Rabbi Seth Limmer of the Chicago Sinai Congregation, joined Lustig in Selma. Each took turns carrying the Torah scroll that will make the entire journey.
Rabbi Jonah Dov Pesner, director of the Religious Action Center, the Union for Reform Judaism's Washington, D.C., office, said in a statement, "Just as Reform Jews who marched 50 years ago in Selma and throughout the civil rights movement understood that racism and racial inequality undermine the social fabric of our communities, we know it is still true today."
He added, "Acting in accordance with our values as a Movement and a people, these clergy and lay leaders are called upon to live our Jewish values by marching with our historic partner to protect the rights of all citizens."